The weekend 14.10-15.10.2017 was a beautiful weekend over most of Europe. Christoph, a friend of mine from Berlin happened to be in Bozen, Italy for 2 weeks, and we decided beforehand that if the weather holds, we meet in Switzerland and tour a bit.
As I just came back from Spain with the R120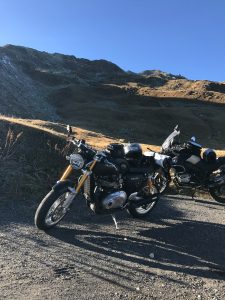 0RT, I decided this time it should be the Thruxton R. I used a small Ortlieb bag with 2 Rockstraps as a luggage solution, and then we met around 10:30 in the morning on Saturday in Zernez.
From there, we went over the Fluelapass, the Oberalp Pass, the Furka Pass, the Grimselpass (where we turned around), over the Furka Pass again to finally arrive at the Albergo San Gotthard, on the top of the San Gotthard Pass to spend the night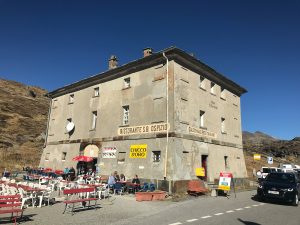 The next morning, we went down the old San Gotthard pass road, the Tremola. a primarily cobblestone road. This is a must ride if you are in the area, this road and the views are amazing.
We then went up the San Bernadino pass, which is so beautiful. It starts with a highway like race track kind of route, that is perfect fun. You exit shortly before the pass, and then a wonderful road in to the mountain starts. Boatloads of fun, especially as we had not that much traffic in our direction.
From there we took the Splugen Pass into Italy, had Pizza in Chiavenna, and then took a lovely ride over Bregaglia and the Maloja-Pass to St. Moritz and back to Zernez, where our ways parted.

900km in 2 days on a Thruxton R, and beside the highways it was as comfortable in the sunshine as an RT would have been.
All kind of pictures of the trip are in the gallery below.